Bert-Jaap Koops homepage - Crypto Law Survey
Summary of international crypto controls
by Bert-Jaap Koops
companion to Crypto Law Survey, version 27.0, February 2013
This is a graphic summary of the pertaining cryptography laws and regulations worldwide as outlined in the most recent version of my Crypto Law Survey. It shows the import controls, export controls, and domestic controls, according to the information available to me. Consult the corresponding entry in the Crypto Law Survey for the contents of the pertaining regulation in a particular country.
Note: The maps may not be well readable in this format, but you can use the "view image" function of your browser (click the right button of your mouse) to see each image in its correct dimensions. Or use Simon Hunt's Google map of crypto and encryption law.
Disclaimer
This survey of cryptography laws is based on several reports, information from the Internet and personal communications. I have not consulted all original texts of relevant regulations; in many cases, I have relied on the sources listed. These findings, therefore, do not pretend to be exhaustive or legally reliable.
Copyright notice
The images below are copyrighted. You may print a copy for personal use. No permission is granted for electronic distribution or publication on another website. For other forms of redistribution, prior permission is required, which you can request at <E.J.Koops@uvt.nl>.
---
Summary of crypto import controls
Summary of crypto export controls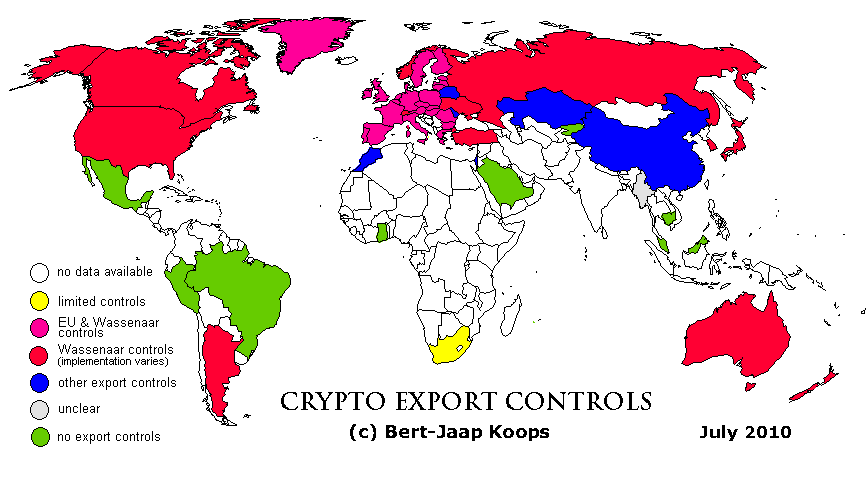 Summary of domestic crypto controls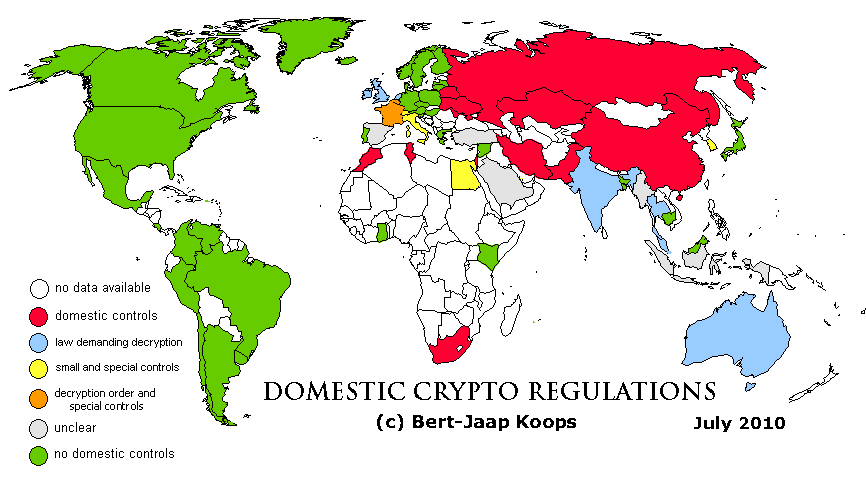 ---
© Bert-Jaap Koops, 1999-2013. All rights reserved.
Updated on 25 February 2013.
general: homepage Bert-Jaap Koops | mail
this topic: contents | maps | FAQ | new | sources | addresses